Fast Mosaic
Fast Mosaic app is developed by Teddy Wong, It provides a rapid design tool to mosaic artist.
Fast Mosaic is a Free softwre. you can download a public version here, or accuquire a free copy from mosaic dealer.
Fast Mosaic provides the following features.
Convert any picture to a Tile Mosaic design.
Embedded various Tile Collections from selected manufacturer.
Advance Render can create photo quality mosaic picture.
Work Plan generator, create guidance for mosaic assembler.
Online Order System helps you to purchase from merchant directly.
Mosaic Robot Linkage.

Simple and Friendly UI.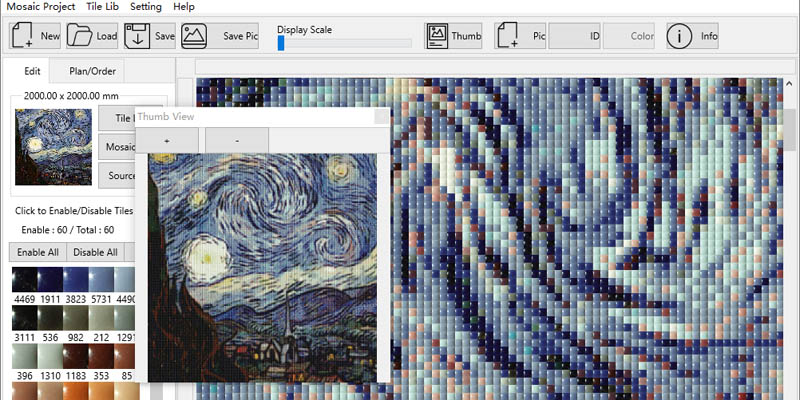 Order the mosaic from merchant directly.
Cost calculator helps you to estimate the budget.
Fast Mosaic will generate the order and send it to merchant directly.
Merchant agent will contact you to process the order asap.
The Mosaic will be produced and delivery to you shortly.
You can order raw tile package and build the mosaic yourself.

Robotic Assembler.


System Requirement.
All functions were thoroughly checked and running on Windows 7, Windows 10, Mac OS X.
2GB memory space is required.
Nothing special, it is optimized for normal computers. You don't need a workstation.
Size Limitation.
Max Horizontal Tile Count = 250,Max Vertical Tile Count = 250.
No other limit to mosaic dimension. Larger tile=larger mosaic, Smaller tile=smaller mosaic.
Pattern and shape.
Fast Mosaic is using regular grid patterns. Which are most popular in mosaic industry.
Our merchant partner provide Square, Rectangle, Round, Ellipse and Hexagon tiles.
New tile shape will be updated if our merchant partner has new release.

Sample.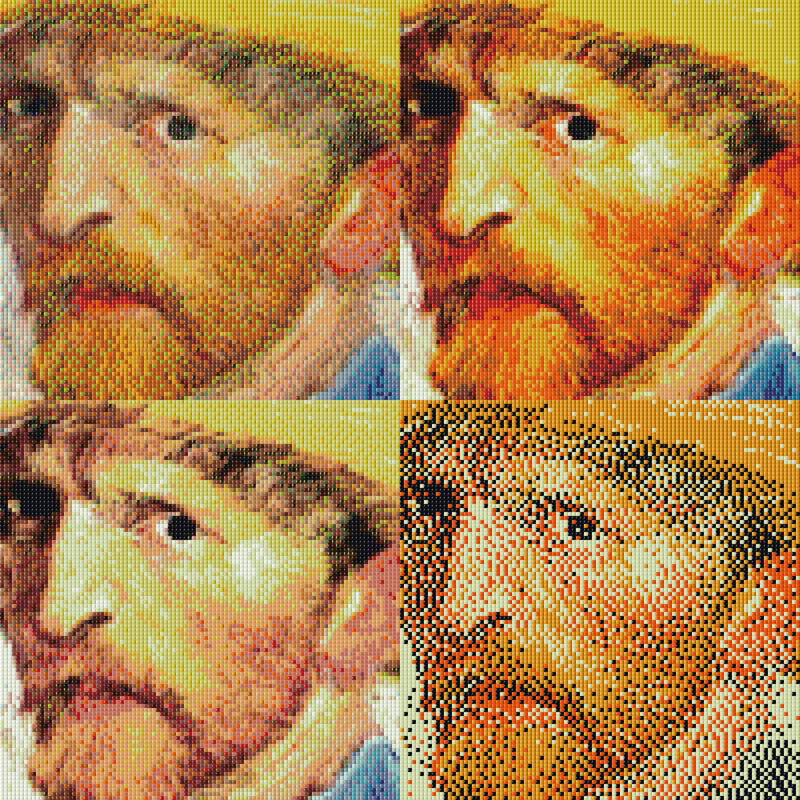 Download Fast Mosaic (public release)
Latest Version : V0.75 Dec.2022
You can convert your own photos to a tile mosaic. The output can be used to place order from a mosaic merchant, or print as a poster.
If you obtain Fast Mosaic from a local mosaic dealer, it contains their tiles only. If you want try other tiles, You need to download this public release.

Hardware Requirements
2GB memory space is required. Nothing special, it is optimized for normal computers. You don't need a workstation.
Download Manual
FastMosaicManual.pdf
It is so simple, pick any picture as the main image, the app will turn it into a mosaic in less than 1 minute.
You can modify individual tiles after creation of the mosaic.

Support
Video Tutorial
FAQ
I am a designer, I want use my own tiles.
A: In Fast Mosaic you can use embedded tiles only.
If you want import your own tiles, please use Tile Mosaic Maker.
Or you can contact the tile manufacturer, push them to submit a new tile lib application.

I am a tile manufacturer, I want import my tiles to Fast Mosaic.
A: Write to partner@ezmosaic.com