Tile Mosaic Design Software
Tile Mosaic Maker is a mosaic design software.
Mosaic designing and assembling was very time consuming.
Tile Mosaic Maker is developed to help artists or hobbyists to create mosaic design easily.
Any picture can be converted to a mosaic design.
Picture with colorful objects and high contrast will work better. for example a oil painting or a cartoon drawing.
Tile Mosaic Maker can be used to make Tile Mosaic, Diamond Mosaic, Carpet, Cross Stitch and many similar kinds.
Key Features:
1 Import Custom Tile samples.
2 Convert any Main Image to a mosaic design. With only few easy steps.
3 Generate Tile Statistic sheet, it helps you to purchase tiles from mosaic store or manufacturer.
4 Generate Work Plan sheet.
5 Robot Operation code generator.
6 Shape and Pattern selections.
7 Advance Render Engine and options.
8 Color Range viewer and comparison tool.
9 Color Reducer (PRO edition)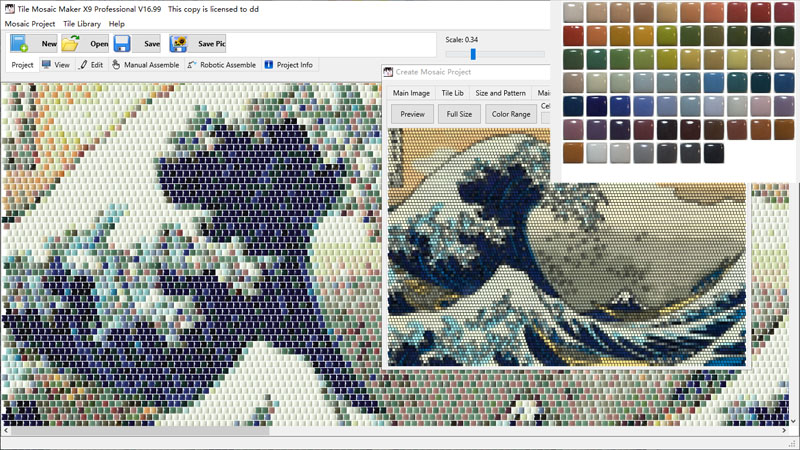 Tile Mosaic
Mosaic is a traditional decorative art form, using Tesserae-small pieces of glass, marble, ceramic or stone- to create images or patterns.
When viewed at low magnifications (at distance), the individual tiles appear as the Main Image.
Depends on complexity of Main Image, a mosaic project has thousands of tiles or much more than that.
Tile Mosaic is a form of traditional mosaics.
Tile factories now using machines to produce small tiles in regular shape. their size range from 5x5mm to 40x40mm.
Artist and hobbyist can purchase thousands of tiles from mosaic store, and use them to make mosaics.


Tile Pattern



Pro Edition Sample Gallery
Buy Tile Mosaic Maker X9
Edition
Platform
Key Feature
Price $ USD
Order Page
Tile Mosaic Maker X9
Windows XP, Win7, Win8, Win10, Mac OSX
Max 200x200 tiles in mosaic.
Max 100 tiles for a tile set.
5 Shapes include Ellipse, Hexagon etc.
Grid Pattern,Circle Pattern,Spiral Pattern
99.99$
Tile Mosaic Maker X9 PRO
Windows XP, Win7, Win8, Win10, Win11, Mac OSX
Max 1000x1000 tiles in GRID mosaic.
100,000 Tiles for CIRCLE and SPIRAL.
Max 2000 tiles for one tile set.
8 Shapes include Ellipse, Hexagon etc.
Grid Pattern, Circle Pattern and Spiral Pattern
Excel output
Mosaic Robot Link
585.99$
Download Free Trial of Tile Mosaic Maker

Latest version: Tile Mosaic Maker X9. released Oct.2021

If you want import your own tiles, You need to buy a full version.

Video Tutorial